Security
---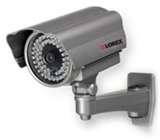 Ifix4u can do a security sweep on your property and advise of soutions to weak security points. Crime is on the rise. The use of Security Cameras on Business locations and private locations can be an easy way too prevent crime while maintaining a log of activities in the areas covered. Our cameras have help prosecuted criminals for acts of vandalism, theft and Kidnapping.
After we complete a physical security survey, our clients have a far greater understanding of their physical security needs. We carefully analyze all areas of the facility, working inward from the property perimeter line, to the interior of each building, then to the high security areas. We analyze current security measures to determine their adequacy in deterring or preventing unauthorized access or egress, and make our recommendations on how to strengthen the security program by making improvements, if deemed necessary, by the company. Our focus is to provide our clients with recommendations that fit within the company's budget and security objectives. When the survey is completed, our clients will have documented for them the strengths and weaknesses of their current program, and the effective measures that can be taken to improve security.
Ifix4u is Based Out of Salt lake City Utah, We can survey your property for best camera placement. With our expertise, we can offer coverage like no other installer. A Security camera is better than human memeory and offers evidence for perpertrator prosecution. If you are looking for a security camera installer, you have ended your quest. Please fill out our contact form and we can begin the process of getting you better, Secured.